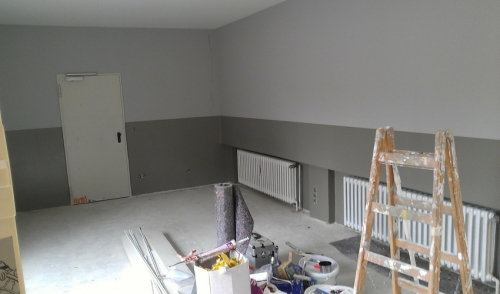 A renovation project can be very rewarding. But like most things in life, rewards don't come easy. Renovation projects can vary in size and expense, though one theme that holds true throughout any of them is the impact it makes on your daily life. Even the most mundane parts of your day, such as setting the travel mug on the kitchen counter after coming home from work, being able to look in the mirror while brushing your teeth, or just entering your house through the front door, become sorely missed while a major renovation is underway. Such things become the light at the end of the tunnel; they help keep you moving forward, until life once again returns to normal (and hopefully improved, since you are renovating).
Hopefully, the tips below will help make living through your renovation a little easier. These work for either DIY projects or those you hire professionals for.
Plan ahead
Obviously, planning is an important part of any project. But planning shouldn't stop with design, layout, and material choices. Depending on the scope of your project, planning should involve securing storage for furniture and valuables while the project is underway. Consider the impact on daily living matters such as bathing, using the bathroom, cooking, and sleeping.
Family and pets
Consider any lifestyle changes for other family members, especially children or pets. Because of the large amount of dust that often accompanies a renovation project, be sure to protect family and pets by either relocating their living space to a faraway part of the house, or sealing off the construction area as best as possible with plastic. Be aware that the doors to your home may need to be open for hours at a time. Take precautions in regards to wandering toddlers and curious pets. Sometimes change is difficult for children, as well. Not having access to the parts of the house where they normally play, for example, can be a challenge for them. A trip to the park or other such excursion might make things a little easier for them.
Practical matters
Plan a little extra money in your project's budget for unforeseen issues. Sometimes in the middle of a project, problems can crop up. Having that little extra financial buffer can make the process much less stressful. If things are going smoothly, you can always use that money to take the family out to a movie or out to dinner for a little R&R. If you plan on renovating your kitchen, creating a temporary kitchen in another part of the house, or even the garage can make life much easier. Plastic storage bins can be your pantry and a folding table will suffice as an effective countertop. Stock up on disposable dinnerware as well. You'd be surprised what you can accomplish with a toaster oven, coffee maker, a crockpot, a microwave, or an electric frying pan. To really plan ahead, stock up on ready-to-eat items such as peanut butter, crackers, canned fruits and soups. Store-bought TV dinners are fine, but homemade meals made ahead of time and stored in the freezer are much better!
Remember to keep your sense of humor, too. Moods can be contagious, so try to keep a positive outlook on the whole process, and your kids and family will follow suit. Keep in mind that it's all for a good cause, and you're making memories along the way. Documenting the process by keeping a photo journal or sharing your progress on social media can be a real morale boost.