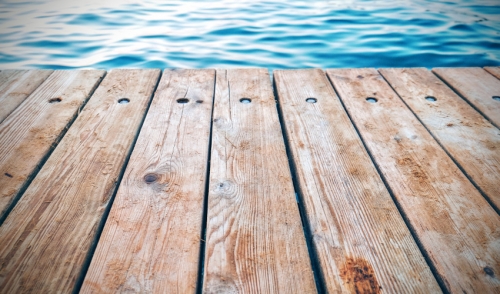 With summer right around the corner, there's no doubt you'll be having a lot of fun in your backyard this season. Since you're going to be throwing all sorts of parties from barbecues to bonfires, take some time to revamp your deck and give it a new look. Each year, the elements and overall wear and tear will weather your deck and change its appearance. If you can't see take a closer look and browse old photos from previous parties or from when you first purchased your home. Restoring your deck this summer is something everyone can do themselves. With the help of new outdoor furniture, paint, fabrics, and even accessories, you can take your deck from old to new in just a few steps.
For starters, inspect your deck and acknowledge areas where repairs need to be made. Investigate the deck-to-house connection and address areas for concerns. Make sure to tighten any fasteners, bolts, screws, and replace nails where needed. Inspect your railing and steps for loose wood and don't hesitate to replace boards.
The next step to refurbish your deck is to clean it. Every deck should go through an annual cleaning for general maintenance purposes. Even though that's easier said than done, if it has been more than a year since your last cleaning rent a pressure washer for a few hours and spray it down. Use a deck cleaner or stripper to help remove any old stains or finishes. For tougher parts add a scraper, which will also come in handy around railings. Once your deck is nice and dry, the next step to spoofing up your deck is to add a fresh coat of stain or paint. Depending on the size of your deck, use a sprayer and a brush to apply the stain as evenly as possible. Go with a transparent stain for new decks and a semitransparent stain for older decks. The pigment of the stain will give the deck a clean finish while also allowing the grain of the wood to still show. If you go with solid paint, make sure to pick outdoor quality paint. After you have completed repairing and beautifying your deck, its time to add some accessories. Take your deck to next level with color. Grab an outdoor rug with a nice pattern and add new cushions to your chairs. Don't be afraid to mix and match colors and pieces of furniture. Consider giving your deck a theme for you to enjoy throughout the summer. Try island vibes, secret oasis, or even nautical décor such as striped pillows and anchor centerpieces.
Be bold this year and turn your deck from drab to fab. Take care of your old deck and follow these simple steps. With a little bit of maintenance and some new decor, your deck will look better than new.